Rosettes | New England Rosettes
Colours | Pleats | Centres | Tails | Printing | Prices

Our Rosettes are available in a range of styles and colours to suit your requirements.
We offer the following rosettes:
Plain Rosettes - These are supplied with a plain, unprinted centre for you to personalise.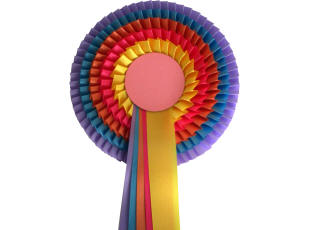 Stock Rosettes - These are suppled pre printed with placing only in standard colours.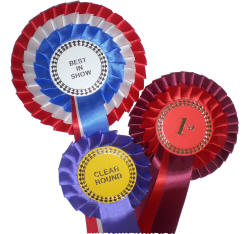 Traditional Rosettes - These are available in three pleats (classic knife, box and ruffle), which can be personalised to include your show event/name/logo etc.

New England Rosettes - These offer an eye-catching reward for a little bit extra.

We offer a wide variety of pleats, sizes, centres, tails and ribbon colours.
Our in-house manufacture of rosettes and printing of centres/tails using only high quality materials, ensures that we can provide our customers with superior rosettes and an excellent bespoke service.
A choice of bridle clips, safety pins, tapes or cage clips fastenings are avaliable for all rosettes at no extra charge.
If you require any assistance, help or advice, please do not hesitate to contact us.