Rosettes | New England Rosettes
Pleats | Centres | Tails | Printing | Prices
We stock 24mm, 36mm and 48mm ribbon in a variety of shades as shown below.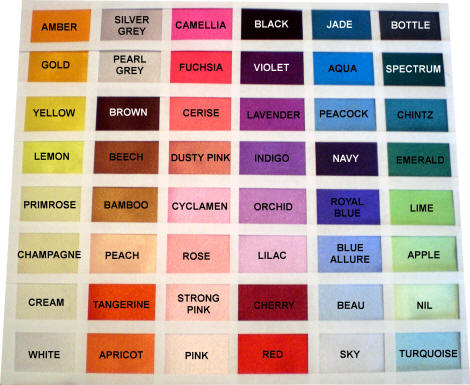 Please note that Ribbon Colours shown are for approximate guidance only.
If you require a specific colour match, please contact us for a ribbon sample.

New ribbon colours!!...RAINBOW!! and dark grey!
In addition to plain colours we also stock a range of patterned ribbon including:
Polka dot

- Available in 20 different colours including: Red, Royal, Yellow, Purple, Tangerine, Cherry, Strong Pink, White, Bottle, Emerald, Gold, Black, Lilac, Amber, Champagne, Navy, Cerise, Apple, Aqua and Blue Allure

Gold Edge

- Available in 20 different colours including: Red, Royal, Yellow, Purple, Tangerine, Cherry, Strong Pink, White, Bottle, Emerald, Gold, Black, Lilac, Amber, Champagne, Navy, Cerise, Apple, Aqua and Blue Allure
Metallic and Lame ribbons - Gold and Silver
Novelty ribbons, e.g. Christmas
Tartan ribbon - Available in different styles (shown in order) Royal Stewart, Macbeth, Renee, Black Watch, Anderson, Menzies, Xavier, Jasper and Cameron


Standard Placing colour combinations are:
1st Place - Cherry/Red
2nd Place - Royal/Blue Allure
3rd Place - Gold/Yellow
4th Place - Emerald/Apple
5th Place - Camellia/Strong Pink
6th Place - Indigo/Lilac
Pony Club Placing colour combinations are:
1st Place - Royal/Blue Allure
2nd Place - Cherry/Red
3rd Place - Emerald/Apple
4th Place - Gold/Yellow
5th Place - Camellia/Strong Pink
6th Place - Indigo/Lilac